Case Studies
Particle3D's patient-fitted bone implants are bespoke to each individual patient and enable faster ingrowth on bone tissue and remodelling into real living bone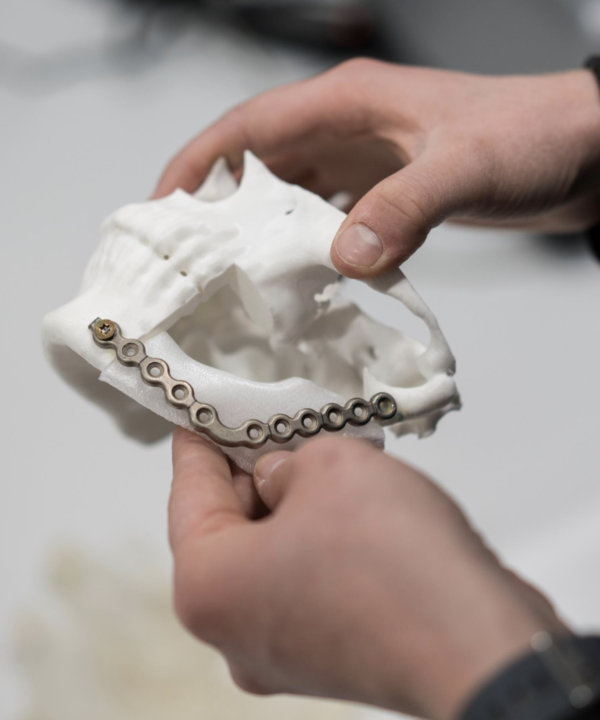 Particle3D
Particle3D is the one of a numerous innovative technology business originating from our network in Denmark, where we have sourced a number of the strongest performing companies in the West Hill portfolio.
Bone tissue reconstruction is a surgery required by millions of patients each year suffering from congenital defects, accidents or diseases such as cancer. Using Tri-Calcium Phosphate, which is naturally found in bone, and Fused Deposition Modelling, Particle3D is potentially able to produce bone implants for use in numerous applications including cosmetic and oral-maxillofacial surgery, a fast growing and currently addressable market of US$3.8billion per annum
The Company anticipates becoming the gold standard in bone replacement with its biodegradable, porous, mechanically durable and low cost alternative to titanium, polymer or bone grafting methods, which often suffer from a high rate of complication such as infection, bleeding, morbidity, necrosis and ultimately rejection.
Particle3D's patient-fitted implants are bespoke to each individual patient and enable faster ingrowth on bone tissue and remodelling into real living bone, resulting in fewer complications, faster patient recovery and better functionality, whilst reducing costs for healthcare providers, all of which will become most welcome post-COVID.
Beyond bone grafts and surgery, the Company's implants can also be designed to deliver additives and a range of medicines such as antibiotics or chemotherapy drugs, offering significant health benefits to patients.
The Board believes that Particle3D is the only company in the world that has the ability to provide 3D printed, patient-fitted, degradable and endogenous bones and as such Particle3D has the potential to attract global demand for this new standard in bone replacement.
Capital Raised

£3.1m EIS equity

Investors

HNWI, Family offices, Principals of West Hill

Outcome

EIS Equity raise oversubscribed, raising over £3million